Amazingly, I've been awake for about an hour now...but my sister is asleep in the den (I told her I wouldn't wake her up until 8:30 or 9:00, so after this, she's getting awake haha).
Anywho, I found a linky party this morning while I was catching up on weekend blogs...called Miscellany Monday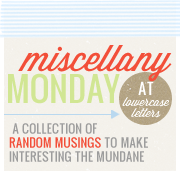 Figured this would be the perfect way to link up to my scatterbrained thoughts of plans for this week...
In terms of sewing, I want to finish Mom's apron and my t-shirt quilt. I started the quilt after my freshman year of college. It's made up of (mostly mine) and a few of Adam's shirts from high school.....including the shirts we wore on our first date. Even though I started it five years ago or something like that...it's still not done! I kept finding more shirts to add!! (And sadly, I still wear some of my shirts from high school! This is why I'm trying to wear tshirts less frequently, but it's just not happening hhaha)
We're thinking about trying out the waterpark in town. I've never been, so obviously Sarah hasn't either, so we'll see if it's good or not!
We were going to go to Tutti Frutti (self-serve frozen yogurt place in town) last night, but we were all pooped after going to watch Despicable Me (great movie) and stuffing ourselves at Johnny Carinos Brusco's...then going to Target, Home Depot, Starbucks (hehe...which, by the way, it was my first purchased coffee since my France trip!...I was pretty amazed with myself when I realized that!!!), and then to Wal-Mart.
Adam loooves the blueberry donuts at Daylight Donuts and we haven't been in a while, so we might go there Wednesday when we get a student discount on a dozen! :)
Sarah wants to go walking around Toomer's Corner (which surprises me 1.because she used to hate to shop and 2.because she really used to hate walking distances around town. Once we walked to Kinnucan's ((OK Bad idea..I thought it was closer than it was...and it was before I had a car...)) and she's been complaining about that walk ever since!)
Of course we're going to class today, Wednesday, and Friday and of course I'm excited about that, but I'm excited that Sarah's excited about that too.
Ok, I think it's breakfast time for the teenager who probably doesn't want to wake up yet!!!